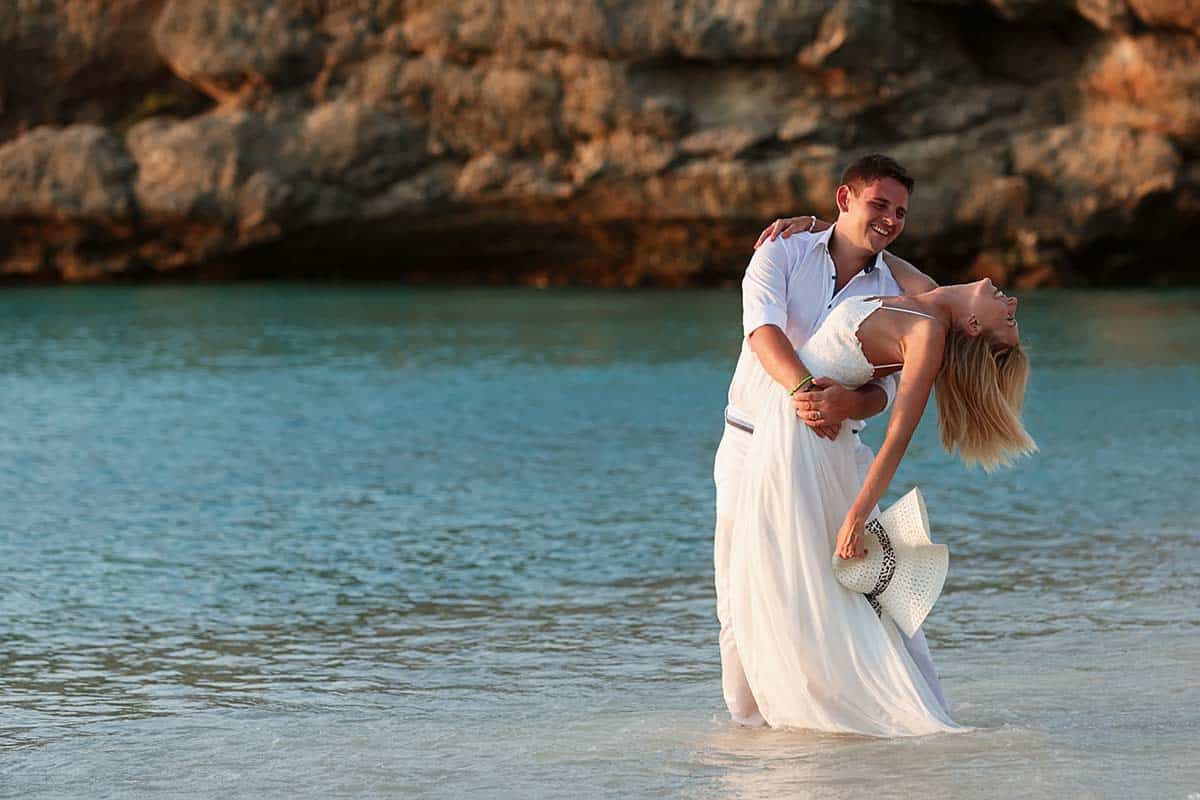 Meet Marilse Statie – Teixeira Brazao, the Director at Celebrations! in the island of Curacao. Celebrations! is an independent wedding and event planning company providing a wealth of event planning and event execution services.
What is one of the most unique weddings you have worked on:
For us it's difficult to select "The" most unique wedding as each and every one of our events have their unique circumstances, be it the venue, the family ties, the story behind the union, and so forth. What we can share are two of our weddings that have received the most coverage in news media in Curacao.
The first was by request of a European couple who wanted to get married on top of the highest mountain in Curacao (the Christoffel mountain which lies in a protected wildlife zone at 378 meters). Even though the climb to the mountaintop is not the easiest one, we were able to fulfill their wish, and it provided some unforgettable memories.
The second one was the recent union of an American couple who decided to celebrate their wedding by foregoing a limousine ride after the wedding ceremony in favour of a "Jump Up" with a brass band. The "Jump Up" is a very typical happening locally, and can often be observed during our Carnival season (around January to February/March). The sight of the happily married couple with their bridal party and their family and guests dancing and jumping behind the band through the streets of our old and colorful capital was definitely something memorable.
What makes Curacao so unique as a romance destination:
I believe one of Curacao's unique points is its incredibly wide variety of beautiful wedding venues. Curacao also has a rich tradition of religious freedom, and that enables us to provide wedding services for most religious denominations. The wedding service providers on the island are very professional and flexible, and the quality of their work is outstanding. The quality hotels, all-year sunny weather and Curacao's location outside of the common hurricane belt are definitely additional plus points. And finally we have to mention the fact that Curacao inhabitants are multi-lingual, and a personal favorite of ours: the theory that the name of our island is derived from the Portuguese word for "heart" (Coração) which is a testament of how romantic our island is.
What are some of your favourite venues to get married there:
There are too many venues to just choose some favorites but we can mention the beautiful beaches, renowned hotels,  the many antique country houses, the different traditional houses of worship. It is also possible to choose a more unique nature setting as a background for the ceremony. 
What piece of advice would you give people from N. America looking to do a destination wedding:
Once you've selected your destination, if at all possible plan at least one visit and ensure you acquire the services of a certified wedding planner, preferably an independent one. The wedding planner will be the one who takes care on your wishes and is primarily focused on your wedding. Make sure that your wedding planner shares your vision and expectation in as much detail as possible. This will help the wedding planner to better cater for your needs when discussing details with the vendors.
Having a Destination Wedding provides a unique setting for your special moment and also gives you the possibility of combining your wedding with your honeymoon, which can be financially attractive.