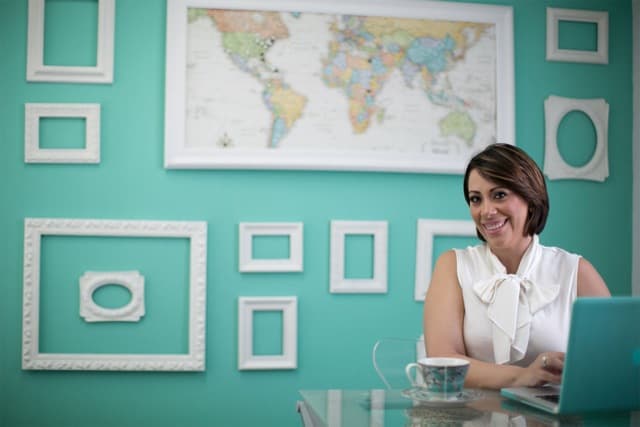 How long have you been a wedding planner?
I have been a wedding planner for a good 12 years but my business really picked up when I became a full time wedding planner 6 years ago and found a niche market for luxury destination weddings. I also got certified as a floral designer 4 years ago and offer the service of floral/event design to every wedding we plan.
What are some of your accomplishments and experiences as a wedding planner in the Caribbean?
I am proud to say that I have been working with the Puerto Rico Tourism Company to encourage travelers to view Puerto Rico as a destination for weddings and together we've created promotional material that is geared towards the luxury destination wedding market. I have also attended multiple bridal shows in the U.S. where Puerto Rico has been showcased.
My knowledge in destination weddings led me to become a speaker at the Inspire Smart Success Experience 2014 in Cancun where I spoke about "Vendor Relations for Destination Weddings" making it one of the highlights of my career. Another amazing feat was being able to plan the first wedding celebration in the history of the lighthouse Los Morrillos in Cabo Rojo, located on the southwestern tip of the island.
What do you enjoy the most about being a wedding planner?
I really love to show my clients how amazing Puerto Rico is, take them to their wedding venue, have them taste their wedding meal and show them a sample of what their décor and centrepieces will look like for their special day. Making a person's vision a reality is awesome, going above and beyond what they imagined is the most fulfilling emotion a wedding planner could ever have.
What are some of your favourite wedding details to plan?
I love music and having a live band play Salsa and Latin music is always a highlight for me during the wedding. Puerto Rico is full of artists and musicians so I like to implement our culture by showcasing our entertainment. Another element that I really enjoy is helping the couple create welcome bags filled with items from Puerto Rico. Whether if it's home-grown coffee, artisan rum or snacks, we make sure every guest has a treat and a map to get around while visiting the island.
Who's your most memorable Caribbean Bride?
Wow, this is a really hard question to answer! The reason why it's so difficult to answer is because I learn from every bride. Recently I sat down with a couple that when I asked what they envisioned for their wedding they answered, "We just want to help Puerto Rico's economy. We want everything authentically Puerto Rican, from the flowers to the favours, everything must be made in Puerto Rico!" This couple got married at a lighthouse in Cabo Rojo called El Faro de Los Morrillos. They were the first wedding at the lighthouse and we had 130 wedding guests come from different parts of the world.
What makes your island so special?
Puerto Rico has everything typographically in one island; beaches, rainforest, deserts, mountains, and the most amazing sunsets. We are located in the "belly button" of the world, which makes us very easy to get to from the U.S. or Europe and we are a U.S. territory which means Americans don't need a passport to get here.
Contact Information:
Company Name: Chezelle Dezines (CD Weddings)
Website: www.chezelledezines.com
Facebook: www.facebook.com/ChezelleDezines
Twitter: @ChezelleDezines
Instagram: ChezelleDezines