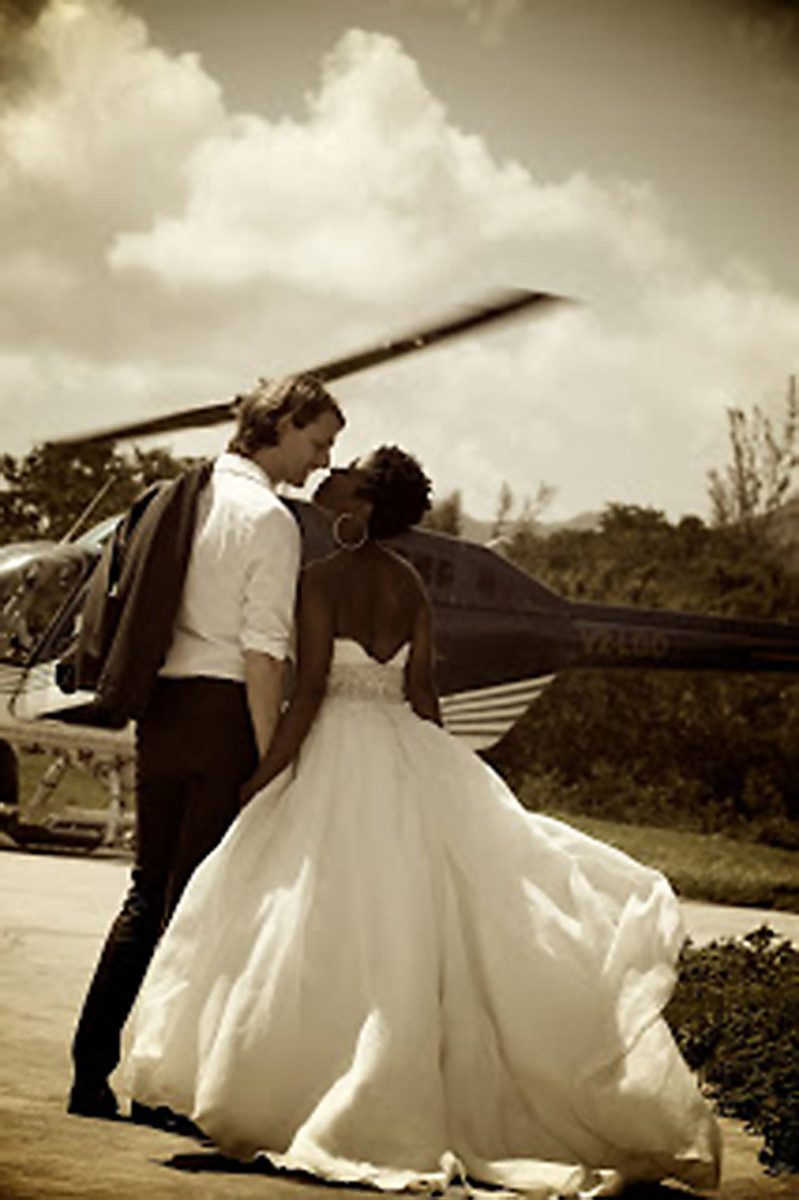 As Antigua and Barbuda continues to position for increased growth in the wedding and      honeymoon market, Barbudan descendant and Broadway performer, Tracee Beazer, returned to her roots to stage her dream wedding. On May 6, the accomplished actress and Paulo Barrett, a software engineer, tied the knot in a sunset ceremony at Villa Colibri at Pigeon Beach.
Tracee Beazer has starred in several Broadway productions including Tony Award winning musicals, Hairspray, Memphis and The Wedding Singer. She has also made several television appearances in Law and Order. Tracee and Paulo also launched the Barbuda Moons Romance Program during a media conference on May 12th at the historic Martello Towers in Barbuda.
"I couldn't think of a more beautiful place to stage our dream wedding and begin our new life. I always tell everyone how wonderful Antigua and Barbuda is and by getting married here I got the chance to actually introduce my friends and colleagues to what I consider to be paradise." Tracee said.
The couple was joined by more than 40 family members and close friends mostly from the United States and United Kingdom who flew in to attend this soiree which turned into an all night pool side celebration. The contingent included some of Tracee's colleagues from her Broadway performances, who are first time visitors to the twin island destination. Many expressed intentions to return for a longer visit and to tell their friends about their phenomenal experience.
US Director, Derede Samuel-Whitlock, who attended the ceremony, indicated "This has been our largest destination wedding to date and this time the celebrity actually got married. This year, the size of the wedding, is an additional criteria that we considered in selecting the couples.  Given the economic challenges, we wanted to ensure that this promotion not only generates publicity but hat it also spurs business for the destination during the off season. Having met some of the guests, I am confident that we will have a new cadre of brand ambassadors who will help spread the word about the destination and all that we have to offer."
The couple spent the first few days of their honeymoon at St. James Club before traveling to Barbuda to enjoy a "Day Moon," a day trip taken before, during or after the honeymoon filled with experiences to help the couple unwind The Barbuda Moons Romance Package comprises five different travel options to Barbuda from day trips to longer stays and features authentic experiences such as "pink sands and sunsets", attractions like the Bird Sanctuary and an abundance of seafood and local game.
The Barbuda Moons Romance Package is designed to broaden options for weddings and honeymoons or any celebration of commitment, including proposals, engagements, bachelor and bachelorette parties or renewals. The program will be a new feature of the "Romance Month" promotions in June. Now in its fifth year, the program  which highlights how hassle free it is get married  in Antigua and Barbuda," has been broadened to include Barbuda as a core offering.
Antigua and Barbuda is being promoted under the theme: "Two Islands, Two Hearts, One Love." A second destination wedding will be staged later this year at Blue Waters and is also expected to attract a large following of guests. These destination weddings are sponsored by: Columbian Emeralds, Exotic Floral Antigua, Mingles, Photo Fantasy Antigua, Indigo Design Events, The Antigua and Barbuda Tourism Authority, The Ministry of Tourism and The Barbuda Council.