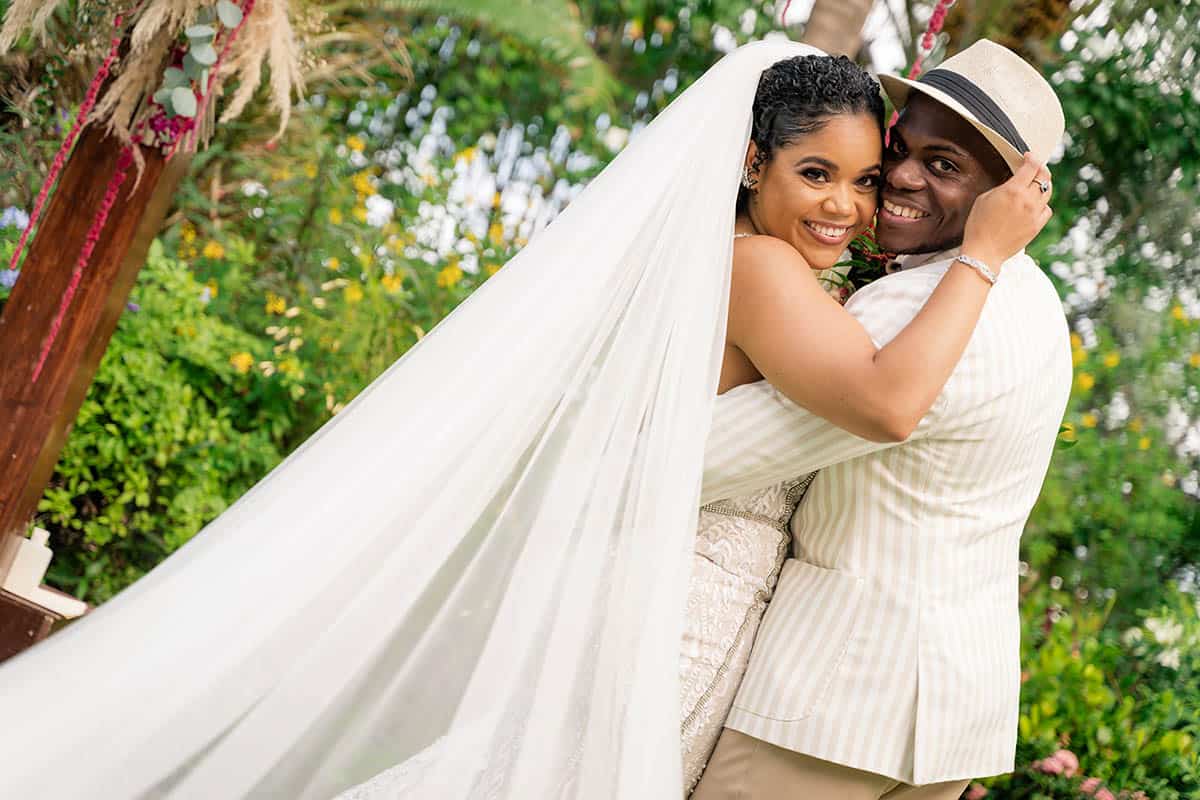 Date and location of the wedding.
01 January 2021. New Years Day… our Beginning 🙂 Ceremony and brunch reception at Kimpton Seafire resort and Dinner reception at Palm Heights Rooftop, Grand Cayman, Cayman Islands.
Why did you pick that destination?
Cayman Islands is home to us and also one of the most beautiful places to us so it was a given to get wedded in our paradise.
How and when did you meet?
We met at work in 2012. Shane was a DJ in his spare time and was recommended by a mutual friend to play for my 25th birthday party. I was initially skeptical to have him play for my party as I never knew of him prior but he did such an amazing job…he later became my "resident dj"/friend" ever since. Other than having good taste in music, he was a true pleasure to be around… true gentleman at all times… something girls rarely see these days… this I gravitated to!!! After years of being friends, we started to plan a friendly euro trip together with another friend (Jodie), during that planning is where the connection developed and the rest is history. 5 years later, we are now married 🙂
Tell us about the moment you got engaged.
We went to Jamaica in July 2019 to attend the Sumfest concert. My favorite artists Buju Banton and Beenie Man were performing so it was a must for us to attend. On that trip, Shane planned an intimate ocean-side dinner at the hotel. I initially thought nothing of the night as he commonly plan events like these but I did find it super strange that he was very nervous that night and was also super persistent in what I wore. There were also several photographers eager to get pictures of us which again I thought nothing of… After having a nice dinner and recapping of our vacation, there comes our waiter asking to take a picture of us AGAIN! Well, he wasn't actually taking a picture but instead recording as Shane got on one knee and told me all the reasons of why he wanted me to be his wife… For me this was super special as he's usually a man of a few words. I obviously said "Yes" 🙂
Did you always dream of having a destination wedding?
We would consider our wedding to be unconventional. A 10 hour event starting with a ceremony in a garden and brunch reception thereafter then leading into an evening of dinner and dancing. It was 2 events at different locations, informal and allowed us to get the most time possible with our guests…. and still we would argue, the day flew right by… guess time flies when you are having fun 🙂
The theme was a conglomerate of different styles that we liked that all represented "us" in our opinion. It was a mix of Caymanian flare, boho and Caribbean in one day. Our wedding planners has named it a "boho wedding in the tropics" and we'd agree. The décor included a mixture of pieces handmade by the bride and bridesmaids. We chose to have a fedora station as one of our décor pieces and handed them out as keepsakes as it is a signature style that Shane wears.
How many guests did you have and where did most of them come from?
100 – all from the Cayman Islands as we were unfortunately unable to have our loved ones from afar attend due to Covid-19.
What were the most memorable moments of the wedding?
There were many memorable moments but some that stand out are: Saying our vows. Our wedding officiant was our marriage counselor as well as both our teacher as kids so having her formalize our union was super special to us. She is very traditional and so was our vow ceremony, it really cemented the commitment we were making to each other.
We also really appreciated the moments we got alone as newly-weds. One advice we got from couples was to ensure we found time throughout the wedding to enjoy each other's presence. With this advice we decided on two things. 1) We scheduled an hour in between changing events to be completely alone, no friends, family, photographer.. just us to take it all in. 2) We opted to do a sweetheart table at the reception with just us rather than with our entire bridal party and we'd recommend this as our bridal party got to sit with their spouses and other guests and we got to be alone. Also dancing the night away on the dance floor with all our loved ones surrounding us.
Tell us about your dress and accessories.
I wore a beautiful Galia Lahav gown. My dress story is also unconventional to say the least. I was booked to fly to NYC in April with my girls to go dress shopping, Covid came and cancelled the plans so I stopped planning all things wedding. One day I woke and randomly said I want to buy a wedding dress. I hastily selected 3 dresses that I liked and sent the pictures to two of my bridesmaids to get their opinion, instantly they selected the same dress at the same time. Without, asking another question or re-assessing the dress; I purchased it. My dress shopping experience literally took 15 minutes.
After purchasing the dress, I honestly felt like it was such an impulsive decision and felt saddened I didn't get to go dress shopping nor try on several dresses like many brides. I also wasn't convinced the dress I purchased was the dress for me. however, the moment I stepped into my dress minutes before walking down the aisle, and looked in the mirror…. The feeling of it being the "ONE" finally hit me and as usual my bridesmaids were right!!!! IT WAS THE ONE!
What did you do for your honeymoon?
We haven't honeymooned anywhere yet due to Covid. We decided leading up to the wedding that we would schedule our honeymoon for our first anniversary. We are big on travelling and decided we want that trip to be special….whenever it does happen.
However we did go to our sister island – Cayman Brac for a few days after our wedding and it honestly felt like a good getaway. We practically had the hotel (Le Soleil d'Or) we stayed to ourselves, with the chefs cooking meals just for us. We did things we would have done on our honeymoon anyway… just in a location home away from home.
Wedding Vendors List
Celebrations – Wedding planners and décor
Kimpton Seafire Resort – Wedding Ceremony and Brunch reception
Palm Heights Rooftop and Tillies – Dinner Reception and afterparty
Makeup Artist – Janelle
Photographer – Rebecca Davidson
Videographer – Tremayne