If you just look at this beautiful ice and strawberry wedding cocktail you can almost imagine how good it would taste, and believe us it does.
The Strawberry Rosé Wine Granita's main ingredients are: crushed ice, rose and strawberries perfectly blend together in this festive cocktail. A must try!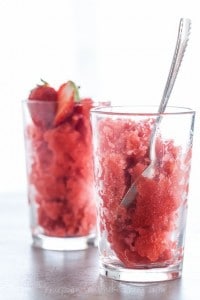 – Cheers
Ingredients
8oz fresh strawberries, hulled and sliced in two
3 tablespoons/60g good quality honey
2 tablespoons framboise (raspberry liqueur)
1 tablespoon freshly squeezed lime or lemon juice
½ cup filtered water
1 cup good quality rosé wine
Preparation:
– Combine the sliced strawberries with the honey, raspberry liqueur, lime/lemon juice. Cover and set aside for 20 to 30 minutes.
– Add the water and wine and purée in a high speed blender or food processor (or alternatively pass the mixture through a food mill fitted with a fine disk and then mix in the water and wine).
– Press the purée through a fine mesh strainer to remove the seeds if using a blender or processor if desired for a smoother consistency (if you have a high speed blender this step isn't necessary).
– Pour mixture into a freezer safe 13 x 9 inch baking dish, cover and place in the freezer. Once ice crystals start to form scrape the mixture with the tines of a fork every 30 minutes as the mixture freezes, until granita is fully frozen but scoopable consistency (about 3 hours).
– Remove from freezer and stir with a fork to break it up and scoop into individual serving dishes or glasses.
Prep time:
30 minutes
Credits: www.gourmandeinthekitchen.com