It's a new year and we want to celebrate that with a unique signature cocktail for your upcoming event.
The Black-Berrita is deliciously refreshing and has a nice fruity taste. Make sure to add the salted rim, it takes the flavor to a whole other dimension.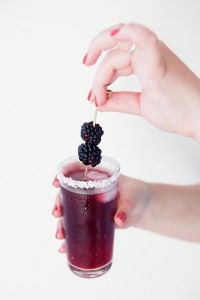 Total Prep Time:
5 minutes
Ingredients:
2 parts pomegranate-blueberry juice
1 part tequila
1 part blackberry Liqueur
salt + blackberry garnish
Instructions:
Combine all the ingredients in a shaker over ice. Pour into a glass with ice, garnish the rim with the salt (not sugar!) and blackberries on a stirring stick.
-Enjoy!
Credits to: 
Something Turquoise