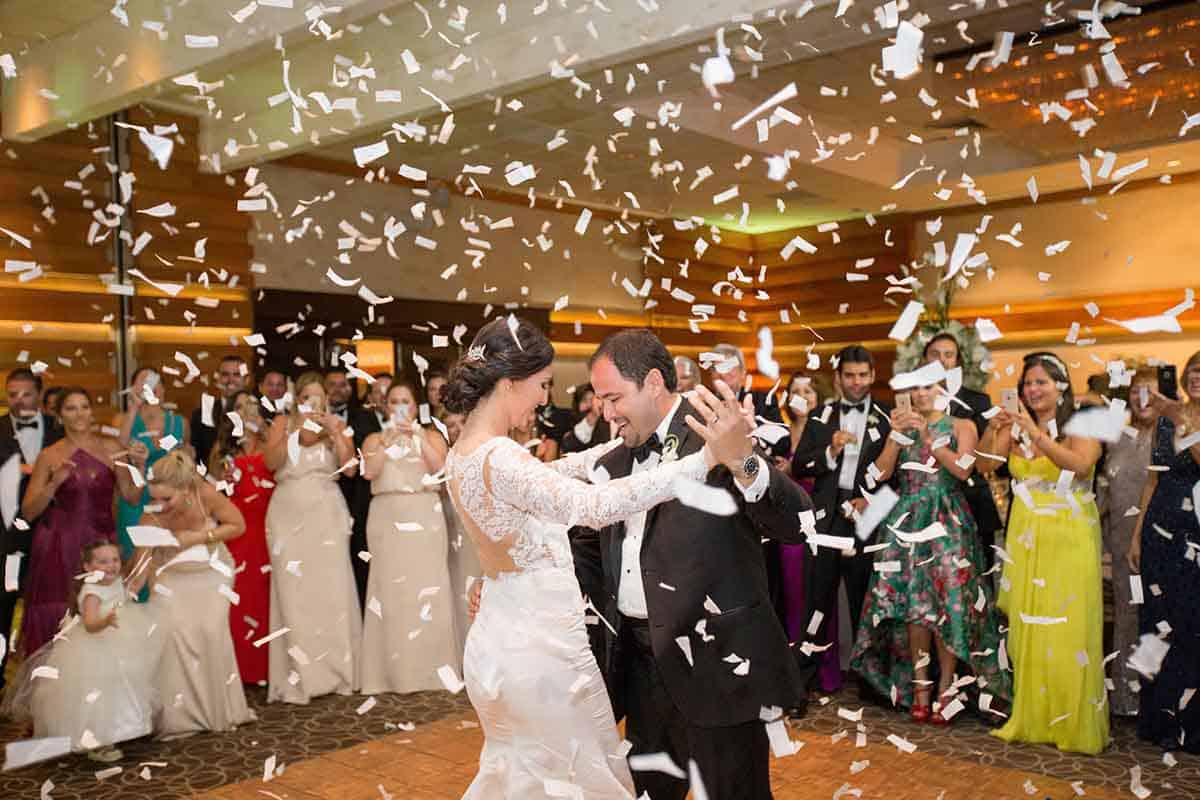 Cristina Ríos Mena & Olmar López Vidal
September 10, 2016
Casa de Campo Resort & Villas located in La Romana, Dominican Republic
Hometown: Guaynabo, Puerto Rico
Wedding Theme and Colours: 

Classic, romantic wedding (with white roses, baby breath and orchids)
Wedding Details: 
Describe where you got married (destination and name of the location or resort):
Casa de Campo holds a special place in our hearts. 
First of all, we got engaged there at La Marina and, second, my husband basically grew up here and always felt it was like a second home. This is one of our favourite places.
What was your vision for your wedding?: My vision was a tropical, romantic wedding where all of my guests could feel at home.
Describe the activities you and your guests enjoyed at your wedding destination: The first day we had a cocktail reception by the pool at the hotel. On Friday  we all went to Minitas Beach, and at night we had the rehearsal dinner in La Piazzetta at Altos de Chavón. Saturday was the wedding.
Where did you hold your wedding (gazebo, beach, historic fort, etc.)?:
In the Altos de Chavón Mediterranean village.
Describe what happened at your ceremony: We had a group of a violinist, pianist and the cello for the ceremony songs. After the ceremony, we had a fireworks show.
Tell about any ethnic traditions or customs from your destination that you included in your event:
At the reception we had what in Puerto Rico you call "La Hora Loka," where Los Diablos Cojuelos arrived and shots of Pitorro (Puerto Rican moonshine) where served in shot glasses. 
Describe the location and decor of your reception:
The reception was in the hotel's ballroom, El Flamboyan. When the guests arrived there was a candlelit pathway with lanterns to get to the cocktail hour. The decor of the reception included tall, huge baby breath balls with roses, orchids, and calla lillies. Plus, lots of candles.
What food was served at the reception?:
There was a cream of mushrooms with truffle oil as an appetizer. A lettuce salad with marinated goat cheese, red wine vinaigrette, and walnut oil as a salad. And, for the main plate, beef steak with vegetables. The dessert was the wedding cake.
Describe the look and flavour of your cake, plus any other desserts that were served:
The cake was vanilla flavoured with dulce de leche and chocolate with guava. It was a huge, round, five story white cake with white dots. Our initials (CO) were in the middle in gold and on the top flowers.
What else happened at your reception? Toasts? Dancing? Any funny or meaningful stories?:
In Altos de Chavón, just after stepping outside, we had a magical show of fireworks. In the reception during our first dance confetti was thrown to the air.

Describe any wedding-related events that followed the wedding and reception:
The day after the wedding the guests were invited to the villa owned by my husband's parents for a "sancocho" pool day.
What did you love about your destination that was specific only to that place?:
The warmth of the people and their service, just like Puerto Ricans.
What was the best idea you had in planning your destination wedding?: For the guests, we prepared welcome packages left in their rooms filled with goodies and the schedule of events. A practical idea I benefited from was leaving all wedding props, beverages, dresses, etc. beforehand so that wedding trip would be less stressful.

Best advice to future brides and grooms of destination weddings:
My best advice for any wedding would be to make a chart with your budget and desires and see how it changes until the end, it is never what it seems. My advice for destination weddings particularly would be to make at least two visits before the wedding to get to know well not only the place but the people who will be working beside you in every step of the way.

Best memory of the wedding:
Getting ready with my mom and best friends and the first dance with my husband. Actually the whole night, as cliché as it sounds, seeing my husband's happiness and feeling his love was the best thing about that night.