Recognizing the evolving landscape of weddings, Velas Resorts in Mexico is transforming the destination wedding with their Multi-Day Menu of Wedding Activities. With 60% of Velas couples opting for more than just the traditional wedding and reception, Velas Resorts provides myriad opportunities for novel experiences and entertainment at their properties located in Riviera Maya, Puerto Vallarta, Riviera Nayarit, and Los Cabos. The multi-day wedding menu of services includes:
Welcome Cocktails and Carajillo Bar: Kickstart the celebration with a warm and intimate gathering at the interactive carajillo bar where guests can indulge in personalized drinks and amenities to celebrate the couple. The carajillo, a hot coffee drink mixed with hard liquor, has a rich history dating back to Spanish troops and is now a popular part of Mexican restaurant culture. Velas Resorts offers a range of unique flavors from traditional to trendy such as s'mores, coconut, Mexican cinnamon infused Rumchata, pistachio, mint, chai, and gold.
Pre-Wedding Spa Atelier Experience: This experience prepares brides and bridesmaids for the big day with restorative yoga, meditation, a skincare workshop, and a personalized exfoliant crafting session guided by expert spa therapists. The experience concludes with a relaxing water ceremony at the spa, leaving participants feeling rejuvenated and wedding-ready.
Kermes Rehearsal Dinner: The traditional Kermes rehearsal dinner provides a rich taste of Mexican culture and cuisine. Complete with a mariachi band, fire show, interactive Mexican Antojitos station, traditional games, and fireworks, the Kermes rehearsal dinner sets the stage for the main event.
Wellness Workshops: At Velas Resorts' award winning spas, guests have a chance to relax and rejuvenate with indulgent spa and wellness treatments. When seven or more suites are booked, guests at Grand Velas Riviera Nayarit can enjoy a complimentary personalized wellness getaway designed by the Director of the Mexican Institute of Yoga. Beginning with a consultation to curate a customized wellness program, this offering includes activities such as yoga, mindful eating seminars, Ayurveda massages, meditation, and more. Guests also receive a $50 USD credit at the resort's SE Spa, including a complimentary session of the award-winning Hydrotherapy Journey.
Group Excursions: From guided city tours and scenic hikes to cultural experiences and yacht trips, couples can dive into their interests by planning excursions for the whole guestlist before their big day.
Interactive Workshops: Couples and their guests can enjoy immersive experiences such as molcajete salsa preparation classes, dance lessons, natural jewelry-making workshops, and tequila masterclasses hosted at Grand Velas Los Cabos' Uber Tequila Mezcal Bar, which boasts an impressive selection of 140 tequila varieties.
Luxury Bonfire Experience: The Instagram-worthy setup includes curated menus, decor, music, and more. The Bonfire on the Beach is the perfect place to watch the sunset during a four-hour experience around a bonfire dug into the sand.
Cigar Roller Class for the Groom: The men of the group are invited to indulge in a luxurious experience where the resort's skilled cigar sommeliers will expertly lead them through the art of cigar tasting. This experience offers insights into various cigar types, their origins, and the meticulous process involved in rolling and preparing these fine tobacco creations.
Movie Party Experience: Relax on plush seating while enjoying popcorn and gourmet refreshments along with a dedicated concierge to assist with any further requests throughout the film screening.
Over-the-Top Bridal Suite Experience: For the ultimate wedding day experience, the bridal party is invited to get ready in the 453 sq. ft. Bridal Suite. Complete with abundant natural light to perfectly capture the wedding gown, the suite provides a private pampering and relaxation sanctuary for the group to get ready in. Additional features include a gourmet breakfast spread, indulgent spa treatments and facials, aromatherapy, and an in-suite massage table.
Post-Wedding Oceanfront Brunch: After the big day, couples can extend the celebration with a delightful post-wedding brunch and celebrate the newlyweds before departure.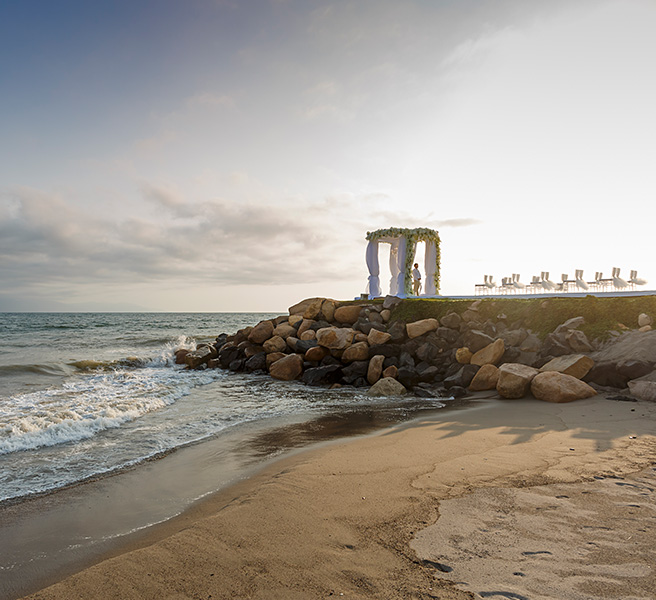 The price of each service varies depending on the number of guests, activities, and property. All activities are subject to availability. For more information, please visit 
https://www.velasweddings.com/
.
About Velas Resorts:
Velas Resorts in Riviera Maya, Puerto Vallarta, Riviera Nayarit, and Los Cabos have earned 56 AAA Diamonds, including the prestigious Five Diamond Award. In addition to Grand Velas Los Cabos' recent receipt of the Five-Star rating from Forbes Travel Guide, the first and only all-inclusive in Mexico to earn the distinction, other esteemed international awards for services and facilities include Virtuoso's Best Family Program, Forbes Travel Guide Five Star Award for spa, and TripAdvisor's Top Hotels in the World, among others. Offering unparalleled all-inclusive experiences, properties include Grand Velas in Los Cabos, with dramatic ocean views and unique spaces infusing every area of the resort; Grand Velas Riviera Nayarit, which enjoys a long stretch of pristine beach and a dramatic backdrop of the Sierra Madre mountains; and Grand Velas Riviera Maya, offering a sophisticated resort experience in the Caribbean with jungle and beach settings. In Puerto Vallarta, Velas Vallarta is a family-friendly all suites resort and spa located on Banderas Bay and Casa Velas is a boutique adults-only hotel located on the Marina Vallarta Golf Course. Casa Velas' guests have beach access at Táu Beach Club, a casual, relaxed atmosphere overlooking the ocean, with a jacuzzi, pool, delectable cuisine, and an expansive event space. Mar del Cabo, a boutique hotel on Mexico's Baja Peninsula, opened in December 2018 as its only European Plan offering. The adults-only Grand Velas Boutique Los Cabos is a new resort and concept in the all inclusive space opening in late 2023. Eduardo Vela Ruiz, founder and president of Velas Resorts, operates Velas Resorts with brother Juan Vela, vice president of Velas Resorts, by his side.