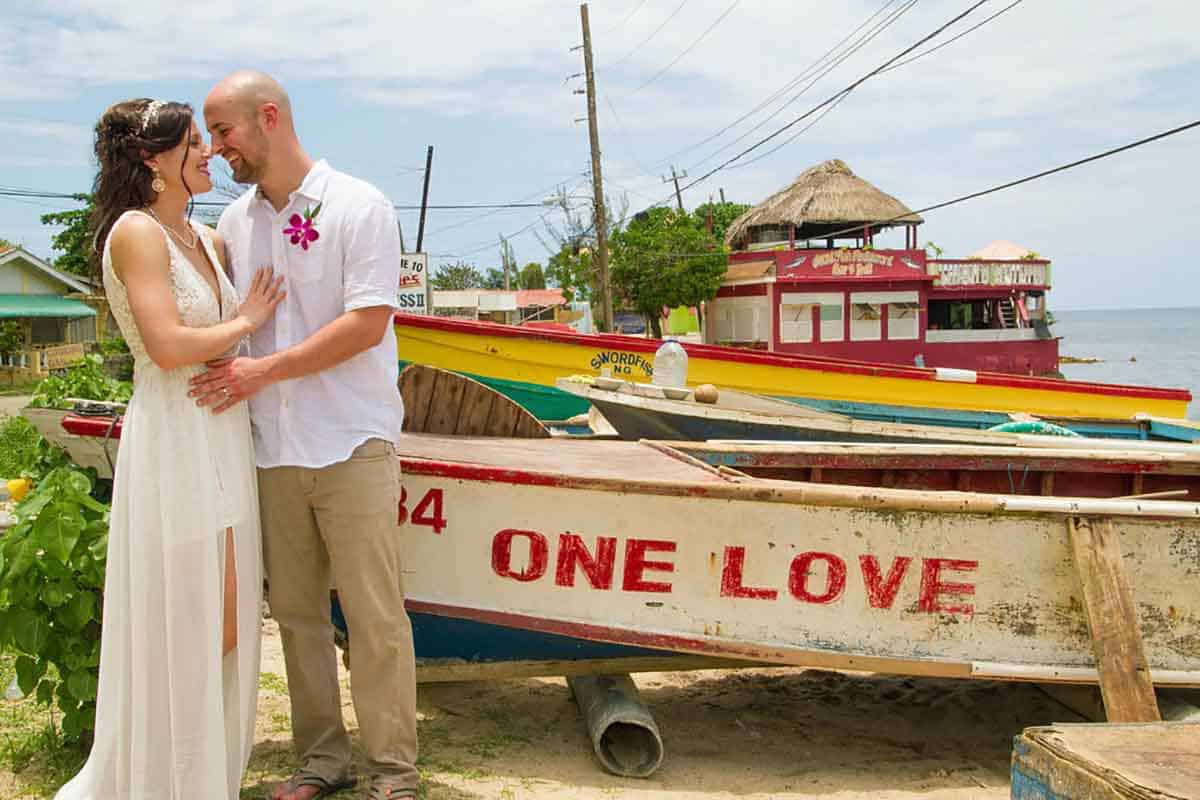 Lisa and Aaron Critchfield
April 16, 2015
Couples Swept Away in Negril, Jamaica
How did you meet?
We had Spanish class together in high school, but after years of not seeing each other, we began dating during my first year of college.
Why did you choose Jamaica for your wedding?
We have always wanted to visit Seven Mile beach and thought the country was beautiful. The wedding process in Jamaica seemed so easy so it was an easy choice!
How many guests did you have?
None! Random beach-goers were witnesses! We even had a man approach us later and send us pictures he had taken with his cell phone.
Where did you travel from?
West Virginia.
What was your colour theme?
We didn't have a specific colour theme but Aaron wore white and tan. My flowers where purple and white. We just used the natural beauty of the beach for our theme.
Can you tell us a bit about your wedding?
We were married on the beach right outside our suite. Aaron and I walked down the aisle barefoot, together, since we didn't have guests. I carried three charms on my bouquet in memory of family members. It was short and sweet, exactly how we wanted. The ceremony was followed by photos on and off the resort thanks to our photographer Nicole Brown and her father. We ended the night with a wonderful dinner.
What was your favourite part of the wedding?
The whole vibe. It was so relaxed. We were sitting at the tiki bar on the beach 40 minutes before the ceremony. One of the other guests, asked when our wedding was since my hair and makeup was already done. Then, she looked at her watch and said, "You need to get ready!" She was more concerned than I was. I stayed a few more minutes before I decided to go put my dress on.
What recommendations you would give to other couples thinking about having a destination wedding?
Go for it! Couples and Nicole Brown Photography made it so easy for us! I will admit, I was a bit nervous, since I hadn't seen or met anyone or anything in Jamaica, but everything in Jamaica is so just relaxed making it extremely easy. It was really everything we wanted.
Vendor List
Wedding Planner- Couples Swept Away
Décor- Couples Swept Away
Photographer- Nicole Brown Photography
Venue- Couples Swept Away beach
Florist- Couples Swept Away
Cake Maker- Couples Swept Away
Dress- Lulu's
Suit- Tommy Bahama