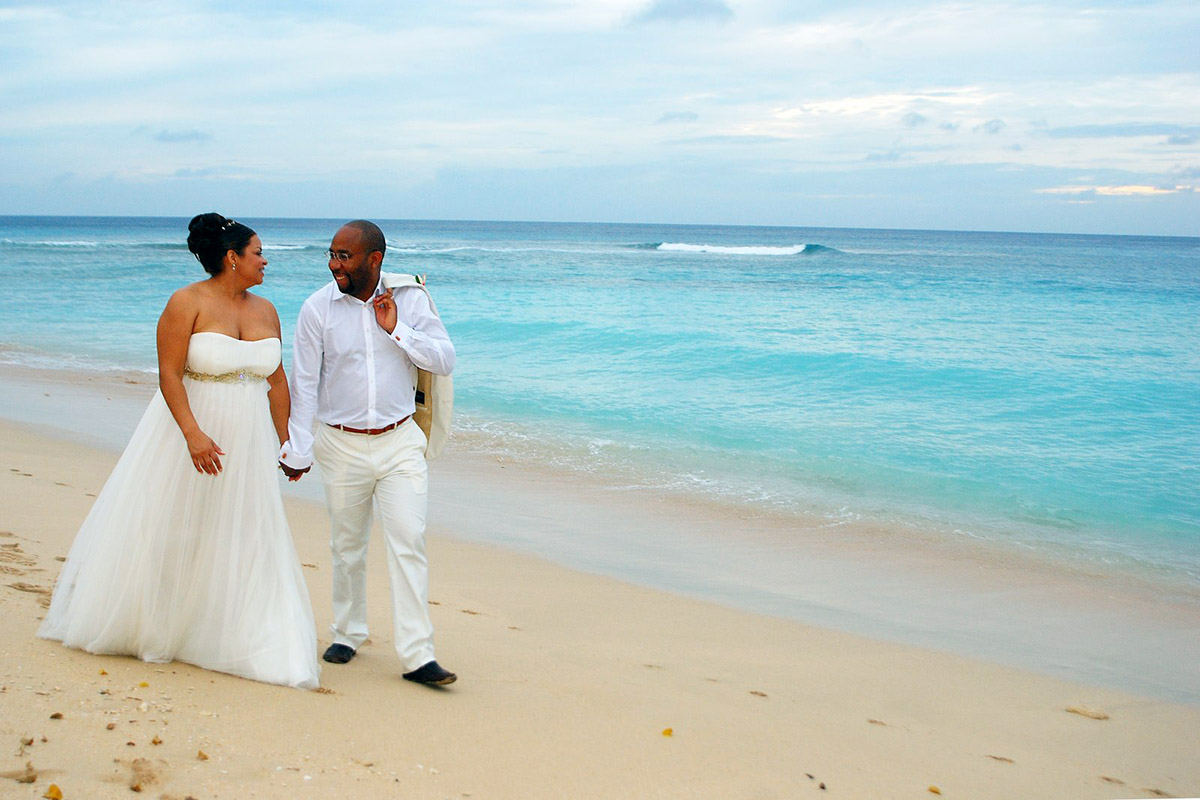 Maria Del Mar Jones and Andrew Cox first met on a blind date in Nottinghill, London on the 12th of April 2003. It was a great match as we both realised how much we had in common, especially good food and wine. We spent the rest of that day getting to know each other and talking way into the night.
The Question:
Andrew proposed on the 14th of February 2006 after taking me to see a flamenco show at Saddlers Wells followed by dinner where he proposed three times in one breath. I said yes straight away and promptly burst into tears. It was a complete surprise as we'd been living together for a couple of years but I certainly didn't expect it. He choose a beautiful emerald cut diamond ring which I adore.
Where and When:
Prior to Andrew's proposal he was keeping an amazing secret. Months prior to our engagement dear friends of ours who live in Barbados offered him to host our wedding at their beautiful villa in St James overlooking the west coast. With such a great gift we flew out in June 2006 to Barbados to see if this was right for us. Angie Teversham, our friend and local artist sent us off to look at the most adorable beach-side church, right on Tropicana beach where we walked along and looked back at the church and it's setting and we knew there and then it was perfect. We were so lucky to have Angie who immediately propelled us into pre-planning the wedding. We choose the date 12th April 2008 as it would be our 5th anniversary from the day we meet. We spent the week choosing villas with Bajan Services for all our guests and meeting with the charming Reverend Corbin. We also commisioned Addison Cumberbatch for photography, catering was by Scott Ames & his staff, DJ Kashi Brown a popular local DJ, and Alicia Castillo of Tropical Wedding supplied our stilt walkers and steel pan performer.
The Look:
Fun, romantic, contemporary white & green with a fresh beach feel. Hints of coral and sea green, grape leaves with beach shells, and large sea shells filled with white Antheriums as center pieces. All the flowers were grown for us by Williams Flowers. Jill Walker a famous local artist provided tropical flowers from her own plantation as well which gave the final touch to all the arrangements. I has happy to design my own bouquet which I also made myself. We had fans made as favours with our names, and the date and venue of our wedding. The groom and all the guests were collected by an antique Jitney Bus and then finally I was collected with my flower girls and taken to the Church in the Jitney as well. This was such fun and keeping with a fun local feel. We wanted a happy, casual and informal celebration as guests had travel from all over the world so we tried to keep the day simple with a few formalities and the best food! The dress code was smart, light and casual and many of my girlfriend got into the tropical mood of wearing flowers in their hair which was such a lovely touch.
The Outfits:
My dress was a beautiful simple ivory empire design of four layers of silk tulle with gold and diamante beading and designed by Manuelle Moto for Pronovias. When I tried it on it felt perfect and elegant and it was extremely light which was ideal for the tropical heat of Barbados. I wanted something different than the traditional dress and something that represented my personality. All the jewellery was from Basia Zarzycka, and shoes were from Jimmy Choo. Andrew wore a white suit from Hackett and shoes from Harvey Nichols. I had three flower girls and two ushers all in white and ivory. I wanted them to be comfortable so they all chose their own unique outfits.
The Ceremony:
Andrew and I got married in St. Albans Church which is right on Tropicana beach. The church was intimate with a fantastic sea view and the sound of the sea gently caressing the shore line, the afternoon sea breeze filtered through cooling the guests. We had our favourite romantic songs playing in the background and we made beach cone shaped floral displays for the aisle filled with white Antheriums with green foliage. As I walked down the aisle I felt so much love from everyone that had travelled so far to witness this occasion and then I meet with Andrew's eyes that had a looked that I can only be described as pure love from this moment, forever and beyond. I remember feeling stunned that after such a long time my dream was here and all I wanted to do was absorb every second. Andrew was very relaxed and when the Reverend said "You may kiss the bride" he kissed me like he was never letting go.
After the service we had group photos on the Jitney Bus which then ferried the guests to the reception for cocktails and canapes where they were met by the stilt walkers and serenaded by sounds of the steel pan. After taking photographs on the beach we then arrived at the reception on the Jitney to be welcomed by all.
Let's party!
We were blessed to witness one of the most amazing sunsets we had ever seen and that set the stage for the rest of the night.
Following the drinks reception we sat to sip champagne and the speeches were given before everyone tucked into the delicious buffet of local delights that was on hand. This included sesame seared tuna, lamb curry, flying fish, St Lucian creole chicken, mediterranean vegetables, rocket salad with sun dried tomatoes, and cherry tomato and basil compote. For dessert we were served grilled fruit skewers with passion fruit abayon and bajan black wedding cake. Next was our bridal dance which was a romantic flamenco dance taught by our dance teacher Lucia. I remember feeling nervous as I didn't want to make one mistake! Following that the guests danced the night away and were also entertained by a fire eater and limbo dancers and with free flowing drinks. There was such a relaxed feel to Angie's home that guests kicked off their shoes and chilled out in true Caribbean beach style.
This was the best day of our lives!
Mr & Mrs Cox
Photos: Addison Cumberbatch