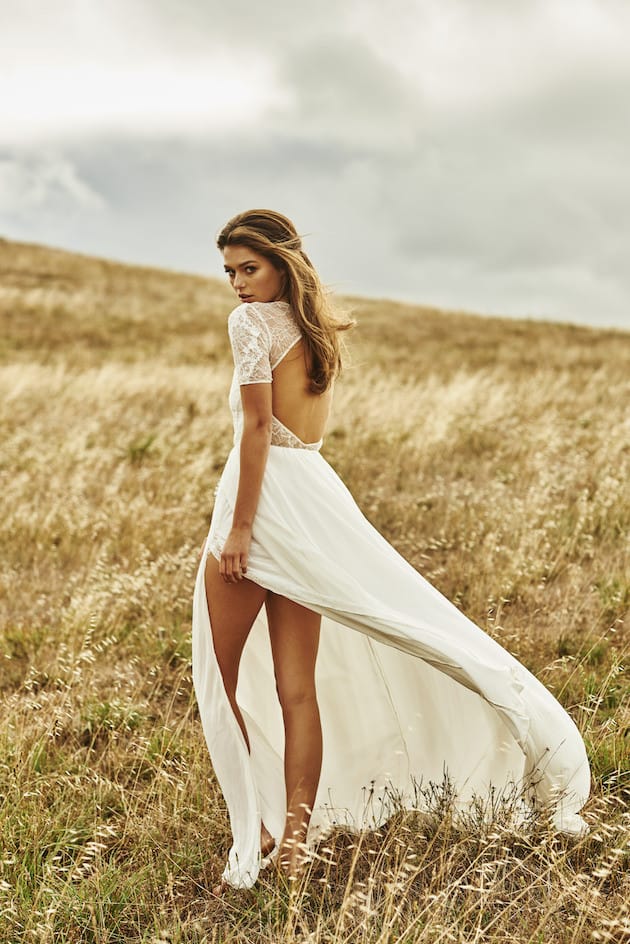 Gown by Grace Loves Lace.
From styles to fabrics, what you need to know to choose a wedding gown that's perfect for you.
Destination weddings offer couples a chance to escape to a place that best reflects who they are, making it a truly significant setting to tie the knot. As the bride, one of the highest priorities on your wedding to-do list is selecting your wedding gown. Think back to the time when you were a little girl imagining what you'd look like on your wedding day. Take that vision and add your current style to create a timeless, elegant gown that compliments the destination.
For a gorgeous, tropical setting in the Caribbean, the styles and opportunities for gown versatility are endless. Some of the most popular styles are sheath, mermaid/trumpet and A-line. A sheath gown is a more contemporary and slimming silhouette that hugs the body. Mermaid or trumpet-style gowns feature a more "fit and flare" style. The silhouette is form fitting through the bodice and hips, similar to a mermaid's tail or the bell of a trumpet, and flares out from the calf down. Universally flattering, an A-line gown is narrow at the top and gradually flares out towards the bottom of the dress, resembling the letter "A." Strapless, halter, cowlneck and sweetheart necklines complement these styles. Ideal fabrics for the Caribbean climate include silk, chiffon, taffeta and lace. No matter what style or fabric you prefer, choose something that's comfortable, breathable and preferably, something with a small, sweep train.
According to Meredith Stacy, Director of Marketing for Savvi Formalwear, one of the biggest trends in destination wedding gowns is shortened trains and lengthened veils.
"There is nothing more beautiful than seeing a veil sweeping across the sand or flowing in the wind," she says. "The most requested veil right now is the mantilla veil, a very traditional Spanish-style veil with lace trim."
If the idea of a wind blown veil evokes uneasiness, you may decide to pin down your veil. If the veil is double tiered and contains a beaded or scattered crystal edge, the veil may weigh enough that pinning is not necessary.
For a less traditional look, brides can choose from an assortment of tiaras, hair jewelry and flowers. Fresh flowers are an excellent accessory to any gown. Choose native Caribbean flowers to create a beautiful headring, or select a single bloom to incorporate into your hairstyle.
Besides accessorizing with flowers, there are several other creative methods of incorporating colour. If you've chosen the traditional white or off-white gown, you might add a coloured sash or bow that corresponds with your colour scheme. Or, for the bride who has totally tossed tradition, coloured gowns have become more popular, especially for destination weddings. From pale pink to pastel yellow, some brides are daring to be different.
Since destination wedding gowns are typically more simple and shorter in length, take the opportunity to further accessorize with a fabulous pair of shoes. Even if you've chosen to exchange vows barefoot on the beach, accentuate your look at the reception, but remember, comfort is key. Choose something with a small heel, but with lots of style.
Before you leave home for the wedding, it's important to make plans for transporting your gown. Because most destination wedding gowns have fewer layers and less beading, they require less maintenance, making them easier to pack and steam. Call your hotel ahead of time to find out if they can steam your dress when you arrive. If possible, avoid folding and packing the dress in your suitcase. Hang it in a garment bag, or you may even call the airline in advance to find out if carrying the dress on and hanging it in the plane's coat closet is an option.
Destination weddings lend themselves to infinite creativity and personalization. When choosing your gown, select something that takes into account warm climate, natural surroundings, corresponding colours and more than anything, your individual style. Don't be afraid to step outside the box and have fun with styles and colours. Or, if you're more of a conventional bride, traditional white gowns are perfectly acceptable too!