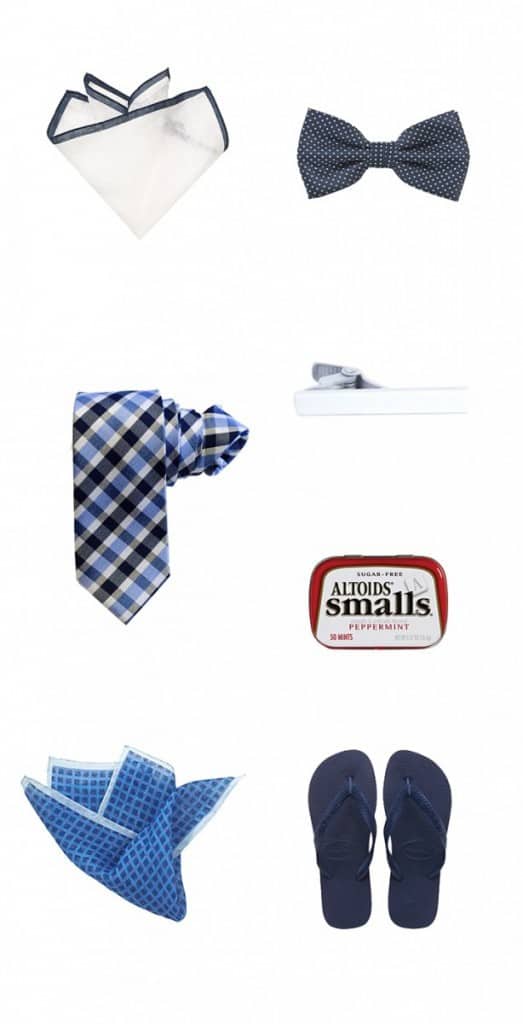 If you plan on saying your "I Do's" on a sunny beach with azure waters, you have to make sure your bridal party – especially those groomsmen – look just as good as your gorgeous setting. We turned to Hendrik Pohl, the stylish founder of menswear accessories shop Bows-N-Ties, to help pick must-have groomsmen accessories for a stylish destination wedding.
"These accessories go with everything and have that keen sense of polished style. No matter what your wedding colours are, these accessories will work with any tropical, sandy setting (mmm….I can just hear the crashing waves). And they can double as great welcome gifts for the guys!" say Hendrik.
Our Favourite Groomsmen Accessories
The majority of groomsmen at destination weddings wear linen or cotton suits in white, navy or tan, so I recommend to stick to a palette of navy blues and whites for their accessories. They will compliment the suits, the ocean views and the accent colors of your choice. Navy accessories look fantastic on groomsmen no matter what the bridesmaids are wearing whether it's coral, sun beam yellow, mint or any other colour.
We recommend mixing traditional menswear patterns like pin dots with geometric patterns and colour trimmed pocket squares. All of these accessories can be intermixed if you want to have all your groomsmen looking casually coordinated and let them pick between a pin dot bow tie or a gingham skinny tie.
Don't forget the white tie bar! This will keep your groom and groomsmen's ties from flying awry in the ocean winds during the ceremony. Groomsmen (destination wedding or not) should carry a small pack of mints at all times. And last but not least, every sandy destination wedding needs flip flops. Whether you choose to include them in the ceremony or not is up to you.