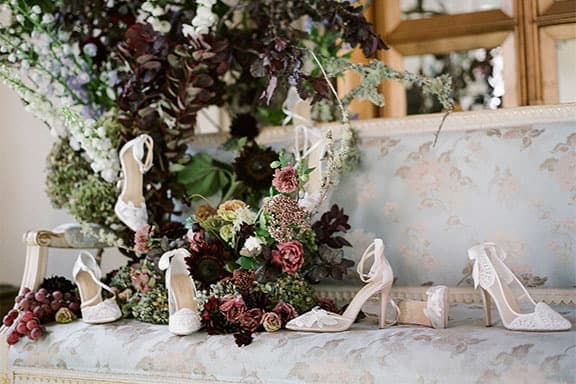 Renowned bridal designer Claire Pettibone has collaborated with leading footwear brand Bella Belle on a limited edition footwear capsule collection launching November 7th, 2018. The special-edition collection consists of four shoe styles that fuse Pettibone's whimsical aesthetic into Bella Belle's signature romantic designs.
"We invited Claire Pettibone to collaborate on this capsule collection as her designs embody Bella Belle's spirit – thoughtful and exquisite. Her whimsical touch adds another dimension to our brand's feminine DNA. Each design has that quintessential Pettibone touch and we enjoyed the creative process with her." Erina Ardianto and Veronyca Kwan, Bella Belle Shoes.
"I was beyond thrilled to collaborate with Bella Belle as my dresses are often paired with their designs and to have the chance to put my romantic sensibility to one of my favorite accessories was a dream come true! This collection was inspired by many of the same elements that comprise my wedding gowns…details from nature with a touch of the whimsical." Claire Pettibone, Designer
The curated shoe collection has the Claire Pettibone vintage style & bohemian touch which has made her a household name across the globe. Available in soft pastel colors, the ethereal styles are hand- crafted from silks and fine materials featuring embroideries, French lace motifs and Guipure appliqués.
The Claire Pettibone for Bella Belle collection launches on November 7th and prices range from $355- $389. Stockists include www.clairepettibone.com and www.bellabelleshoes.com, as well as Nordstrom from January 2019.