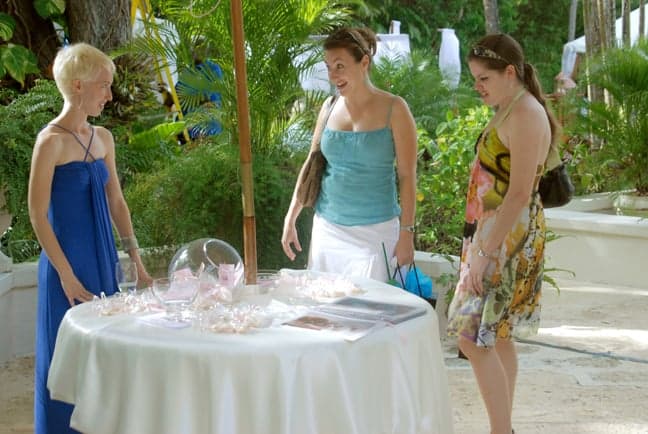 On a Sunday afternoon, amid the crashing sound of blue water waves, Caribbean Bride Magazine hosted its first ever bridal showcase in Barbados. Bride Villa, an exclusive affair for those looking to find the best the Caribbean has to offer for weddings took place at Heronetta in Sandy Lane. It was an evening of cocktails, fashion and great live music set next to the beautiful Caribbean Sea. It was also an opportunity for quality professionals to engage with a group of individuals actively seeking vendors for their event.
Emma Corrie of Events Unusual transformed the finely manicured grounds of Heronetta into a chic outdoor lounge.  The event, sponsored by Wine World, DB Productions, Diamonds International and Realtors, attracted an audience of brides-to-be and individuals keen to enjoy the champagne cocktails and live jazz performed by Paula Hinds. Event exhibitors included Annalise Cake Designer, Capello Salon, Elegant Barbados Weddings, Events Unusual, Exclusive Cottons of the Caribbean, Jammin Catamaran Cruises, Leah Whitehead Make-Up Artist, Pangroove Elegant Events, Pat Brathwaite- Paju, Py-on-i Designs, South Central Entertainment, Steve Cumberbatch Photography, Surf Side Gym, Temptations Cakes, The Chakra Spa, and Weddings by Malissa.
As the sun set on the west coast of the island signaling the start of the 'Fashion at Sunset' show, local models showcased the bridal designs of Anya Bridal, Claudia Pegus, and Pat Brathwaite. Soft flowing fabric was the standard design of most gowns. Throughout the evening there were presentations from regional and international wedding professionals. Carlos Eversley of Capello Salon in Barbados showed fresh new hair styles; Naqia Ahmed of Naqia Cosmetics in Toronto presented make-up looks for your wedding; Meredith Bullock of Anya Bridal in Atlanta provided valuable tips on how to choose a wedding gown for your body type. For the final presentation, Adrian Carew of Hair 2 Inc. in Toronto demonstrated a classic up-do.
In his closing remarks, Caribbean Bride's publisher, Dave Cox, described the event as "a cocktail party around the theme of a wedding." At the end of the night, guests gathered for the much anticipated door prize drawings. Lucky patrons won a hand-painted wrap from Exclusive Cottons of the Caribbean, a portrait session from Steven Cumberbatch Photography, tickets for two for Jammin catamaran cruises, and a wedding gown from Anya Bridal.
Plans are in place to expand on the success of the first show and take it to other islands across the Caribbean. Stay tuned to www.caribbeanbride.com/cbevents for the dates and locations of future events.