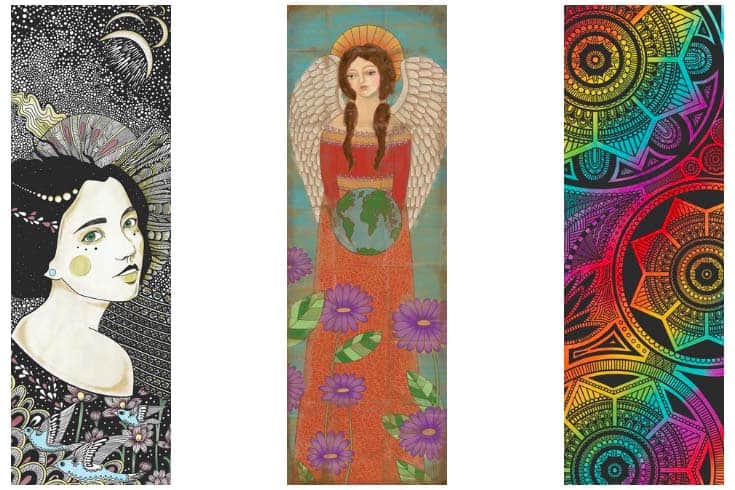 We are always on the lookout for unique gift ideas for the bride and groom and the bridal party. While doing some random surfing we stumbled across a cool little company creating some unique products…custom designed yoga mats. No, we are not talking about stock images on low end material. Big Raven Yoga are producing premium quality mats with custom artwork created with your collaboration with an art director.
How it works
Enjoy a personal design consultation with the art director
Share your vision, colours, style, and aesthetic
Put down a deposit
Receive a round of designs
Review those design
Rinse and repeat until you're happy!
Sit back and relax. We'll print your mats, beautifully box them, and ship them directly to you!
Great mats start with great materials. After more than two years of iterative development, they have arrived at what we believe to be the ideal mat. It's a well-balanced synthesis of size, weight and cushion made from premium, eco-friendly materials. The brushed microfiber top is a proprietary blend of recycled polyester and nylon to help lessen your impact on the environment. By using recycled (and recyclable) materials, they are reducing the use of energy, water, and greenhouse gases. In addition, the base is made from biodegradable, recyclable, 100% natural tree rubber which provides both excellent cushion and great traction for wet floors. All of the unique artwork is created in-house so you can be sure that every design is unique. And you can be sure you'll have an eye-catching mat like no other.
Luxurious, blanket-soft, and designed just for you!
Personalized colours, theme & style
High-quality
Non-slip surface
Deep cushion
Machine-washable
Makes a great gift for your bridal party!
Many of the bridal mats are individually composed from an assortment of floral swatches. With these swatches they can work with your colour palette and the types of flowers in your bouquet to come up with a yoga mat that is completely unique to you and your event! You can see some of the example swatches on their site, but we're not limited to these, nor are you even restricted to designing a floral mat! They are happy to work with whatever ideas you have, and you can put whatever you want on your mats (including a giant larger-than-life photo of your beloved, if that's your thing!)