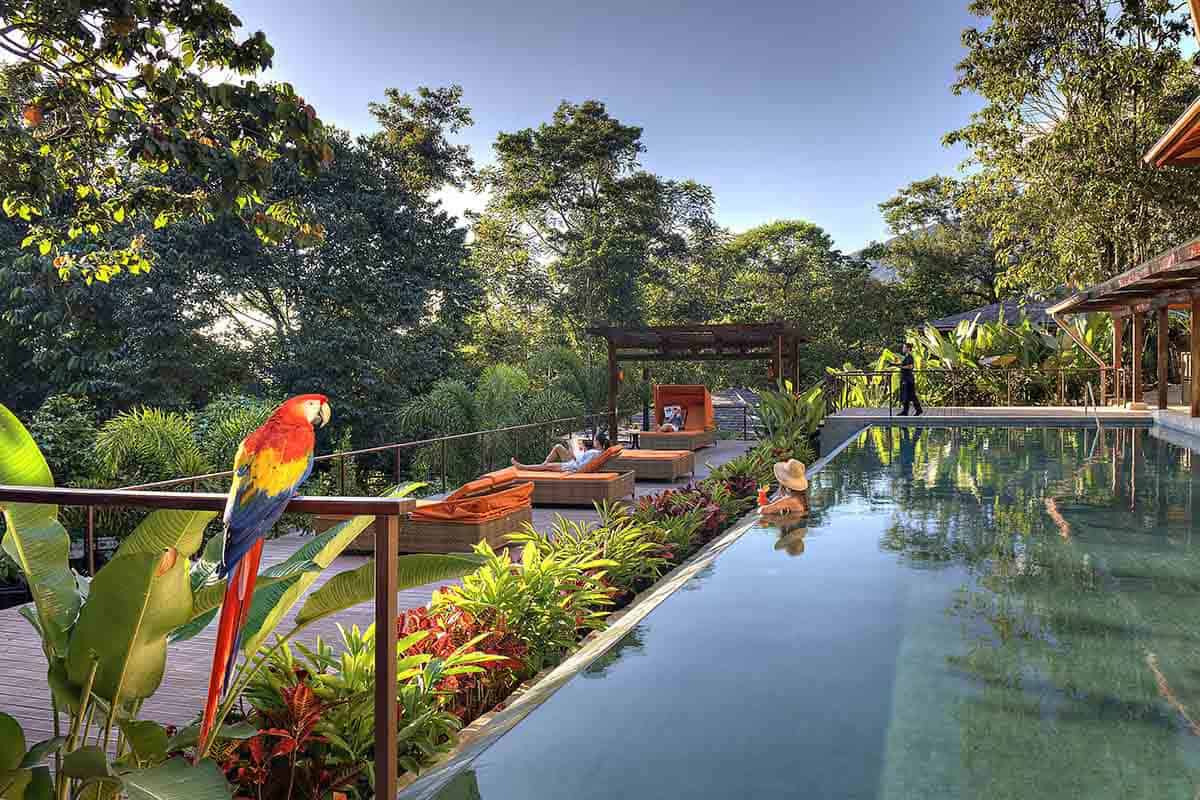 Nayara has unveiled its large expansion to Nayara Springs this January. The expansion sees the addition of 19 new villas, a new yoga pavilion, a new pool and swim-up bar, a new restaurant, a new reception area with an espresso bar featuring Costa Rican coffee varieties, a new gym, and access to a rainforest walking trail.
Guests enter through a new two-story reception building with an espresso bar stocked with a variety of different Costa Rican brews. The beans will be sourced from local growers and will be roasted and blended in-house at the espresso bar. After sampling different espressos daily, at the end of the trip they can purchase their favorite beans to bring home.
The 19 new villas are modelled after Nayara Springs' existing villas (bringing the total to 35), each with a private plunge pool fed by nearby hot springs. The hot springs come from a source near the crater of the Arenal Volcano and, unlike the majority of hot springs all over the world, these are crystal clear with no Sulphur smell. The villas are all very private with thick greenery surrounding each deck – the perfect spot to enjoy a Costa Rican breakfast of local coffee, fresh fruits, cheese made from the property's dairy farm, rice and beans, and a selection of pastries and juices. Bonus: everything in the mini bar is complimentary, including the Costa Rican rum perfect for jazzing up a cup of coffee.
The new open-air yoga pavilion offers candlelit nighttime yoga several nights a week focusing on relaxing stretches to help prepare the body for a restful sleep and the soundtrack of tree frogs and a babbling stream set the mood. In addition to the candlelit yoga, there is complimentary morning yoga daily.
The new pool and restaurant are atop two little hills and connected by a small footbridge. The pool features a swim-up bar and with open views of the Arenal Volcano. Guests can order a variety of cocktails made with fresh fruit, or opt for a local beer such as Segua Red Ale and Libertas Tropical Golden Ale from Costa Rica's Craft Brewing Co. The new restaurant, Mis Amores, serves casual Italian fare, with many of the herbs and vegetables grown in the on-property organic garden. After indulging, guests can work out in the new gym with its floor-to-ceiling glass walls and views to the volcano and rainforest.
The new area of Nayara Springs features a primary rainforest trail below the canopy. Local guides will lead morning bird watching walks twice a week to spot brightly coloured toucans, meandering tree sloths, hummingbirds, and interesting creatures such as the tent-making bat.
Like the rest of Nayara Springs, the expansion will be adults-only. (Existing sister property Nayara Hotel, Spa & Gardens and the new Nayara Tented Resort which is opening in 2018 are both family-friendly.
Nayara Springs sits on a gentle slope on the fringes of The Arenal Volcano Natural Park with a backdrop of the eponymous Arenal Volcano, one of the youngest and still active volcanoes in this hemisphere. The Arenal area is known as the premier adventure destination in Costa Rica with soaring canopies, hanging bridges, waterfalls and caves, mountain biking, hiking, climbing, whitewater rafting, fishing, zip lining, and nature safaris.
How to get there
There are daily flights to both San Jose Alajuela and Liberia Airports. From either airport, it is about a two and a half hour drive. Nayara can arrange transportation with a private chauffeur service in a comfortable air-conditioned van anytime or anywhere within Costa Rica.