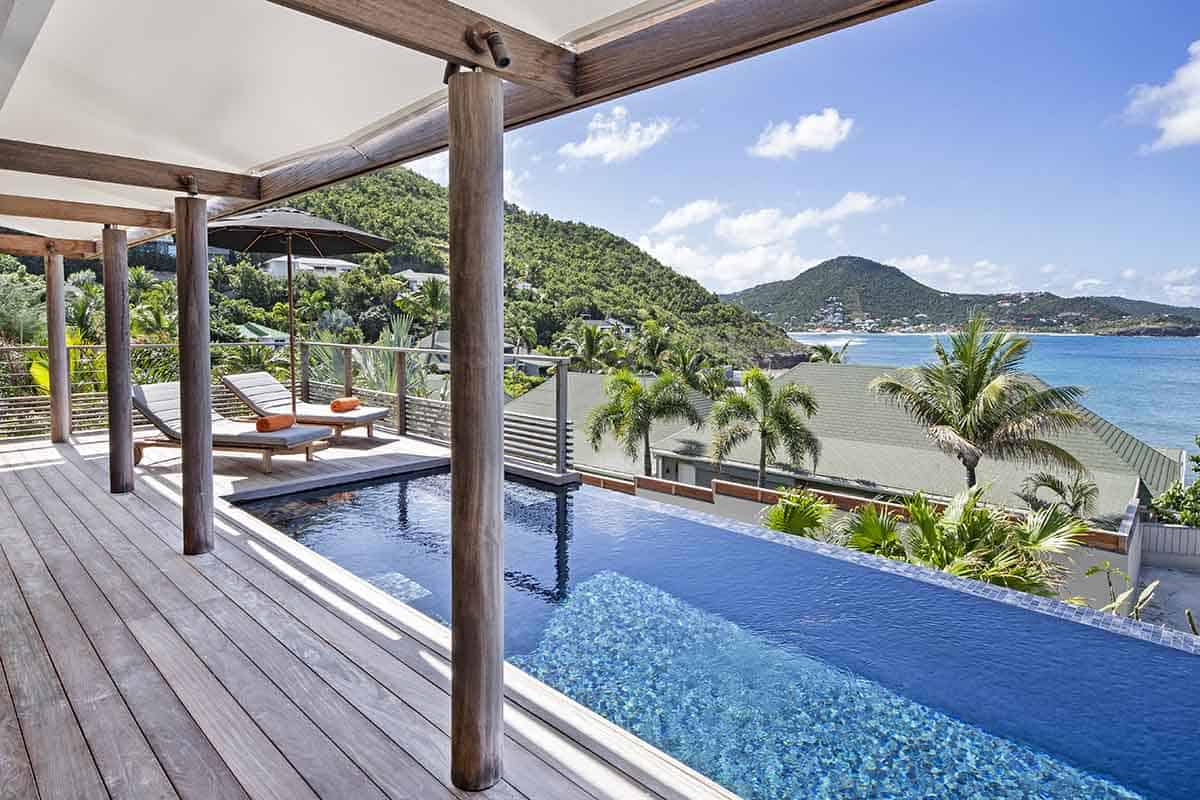 The Christopher has introduced new four-bedroom villas with private pools to its scenic property perched above the water on St. Barth's Pointe Milou. (Two are open and the third will open this Spring). With the addition of these spacious villas, the 42-room hotel concludes a tiered renovation following the hurricanes of 2017, which included the addition of the new Christo restaurant with a focus on sustainably sourced ingredients and a Sisley Spa.
Designer Olivia Putman (daughter of famed designer Andrée Putman and head of Studio Putman) wanted to create a feeling of calm and blur the boundaries between inside and out. The spaces integrate a modern aesthetic with nature, using a mix of natural materials including bamboo, sandstone and volcanic stone that are accented with pops the hotel's signature orange. Just above the hotel, the villas have large decks and private pools, melding the privacy of a villa rental with the comforts of a hotel. Villa guests have full access to all The Christopher's facilities including the Sisley Spa, fitness room, and restaurants, with the perks of renting a villa (for instance, upon request, guests can have a private chef or in-villa spa treatments).
More about The Christopher
The Christopher is an under-the-radar gem on St. Barth with a strong base of repeat clients. With its prime location on Pointe Milou – among some of the poshest villas on the island and minutes from hopping Le Ti St. Barth night club – it has a coveted westward view towards the bay of St. Jean, making it the best place to catch the sunset. Its Christo restaurant, new as of 2018, is one of the best on the island and its Mango Beach Club offers casual poolside fare. The Sisley Spa treatment rooms look out over the water and have a natural soundtrack of lapping waves.
About St. Barth
Unlike other islands, visitors to St. Barth don't generally stay put at their hotel or resort. Instead, they visit the beautiful beaches around the island that have no hotels on them, go into the town of Gustavia for a gourmet meal or some shopping, or stop at bakeries for freshly made croissants. (It is part of France, after all.) The Christopher is perfectly situated to enjoy all the island has to offer.
Where is the hotel on the island?
7 minutes to Grand Cul-de-Sac or Lorient bays
10 minutes to Saline beach or to St. Jean
15 minutes to town (Gustavia), the airport, or Gouverneur Beach
20 minutes to Flamands beach